The Introduction 
How we long to hear these words of Jesus when those we love become ill: 'This sickness is not fatal'. How we want to believe our loved ones will not leave us, and how betrayed we may feel when our loving arms are not enough to hold them in life. Human life is a passing shadow. We're not called mortal for nothing.
So what are we to make of this story of Lazarus? He's not saved from death in the long run; Lazarus will surely die again. But Jesus demonstrates graphically what it means to be the Lord of life. The Son of God has power over death. No one passes beyond the limits of God's kingdom. None of us is lost to life by moving beyond its tangible boundaries. Even the dead respond to the sound of Christ's voice. The shepherd knows his sheep well, and they know him. The gift of Christianity is this assurance in the continuance of life, its fulfillment and transfiguration beyond mortality. Our loved ones are not lost. They are called into more and greater life.
The Scripture (John 11: 25 -26) Jesus the Resurrection and the Life
Jesus said to Martha, 'I am the resurrection and the life. Those who believe in me, even though they die, will live, and everyone who lives and believes in me will never die. Do you believe this?'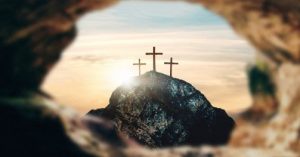 The Connection
The loss of a loved one is final and heartbreaking. In the Gospel, Mary and Martha's loss is compounded by the fact that Jesus had missed the funeral. When he arrives, Mary and Martha cry out that if he had come earlier, Lazarus would not have died. And then, the impossible occurs: Jesus restores life to a dead man.
The two hopeless sisters were witness to the moment when hope was restored. The message for us as we come to celebrate resurrection on Easter is that everyone can live forever. We are a people full of hope in things unseen. The hope is rooted in a belief that Jesus loves us as much as he loved Lazarus. That love won eternal life for us. Being Catholic brings that hope into focus. Our funeral rite is a little Easter. There should be no dirges or sorrowful eulogies. We wear white and sing Alleluia. Jesus means it when he says we will never die. Thinking about our own death is a fearful thing in earthly terms. Yet our faith assures us that our personal death will be no less than the events in Bethany when Jesus showed up late.
The Commissioning
Bring us to life, O God;
free us from all the deadness of the past.
Bring us to life, O God;
free us to break through self-imposed limits.
Bring us to life, O God;
free us to give with abundant generosity.
Bring us to life, O God;
free us to follow Jesus faithfully.
Amen.
GPBS © (2023)